Upcoming Exhibits
Hubble Space Telescope: New Views From the UniverseNovember 20, 2020 - January 24, 2021
**This exhibit was originally scheduled to open on October 20, 2020, but unfortunately is postponed due to wildfires at the exhibit's current location. We will keep everyone up to date and hope to open it by late November.
This exhibit immerses visitors in the magnificence and mystery of the Hubble mission and introduces the James Webb Space Telescope. The exhibit features a scale model of the Hubble Space Telescope as well as several "satellite" units that not only provide viewers with a hands-on experience with the same technology that allows Hubble to gaze at distant galaxies, but also feature Hubble's contributions to the exploration of planets, stars, galaxies and the universe.
Exhibit viewers will learn of the various instruments aboard the telescope and the role that each of them plays in providing exciting new images and discoveries. Observers will also get a glimpse into the various hurdles that Hubble has faced in its career and the role that astronauts have played in repairing and servicing the satellite.
The exhibit contains images and data taken by Hubble of planets, galaxies, regions around black holes and many other fascinating cosmic entities that have captivated the minds of scientists for centuries.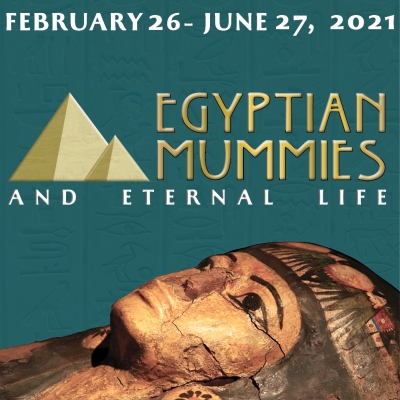 Egyptian Mummies and Eternal LifeFebruary 26, 2021 - June 27, 2021
With over 100 ancient artifacts, including mummies, painted sarcophagi, funeral trousseau, and votive objects, this exhibition evokes the mythical, mysterious landscape of the tombs and pyramids of Ancient Egypt.
Visitors will learn about funeral practices and the process of mummification, a topic that has long fascinated both experts and the general public. You'll discover that all the funeral rituals, even the most macabre, did not serve to simply preserve the body of the deceased, but rather to ensure the continuation of life beyond the grave.
A History of Mobile in 22 ObjectsOctober 30, 2020 - December 31, 2021
Twenty-two unexpected and compelling objects weave together over 300 years of Mobile history, from the pre-Colonial era to the twenty-first century port. With contributions from Mobile's leading historians, professors, and museum curators, you are sure to discover both new and familiar stories in this landmark exhibition
Special Thanks to the Alabama Bicentennial Commission and the Friends of the Museum.